Born – Auriesville, New York 1656

Baptized – Fonda New York  1676

Died – Kahnawake, Quebec Canada April 17, 1680

Declared Venerable by Pope Pius XII  January 1, 1943

Beatified by Pope John Paul II June 22, 1980

Decreed A Saint By Pope Benedict XVI December 19, 2011

Canonization – October 21st, 2012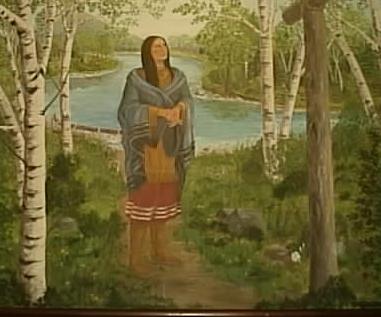 St.  Kateri Tekakwitha
St. Kateri Tekakwitha was born in 1656 the daughter of a Christian Algonquin mother and a non-Christian Mohawk Chief, on the south bank of the Mohawk River in the Village of Ossernenon.
When she was four years old, a smallpox epidemic claimed the lives of many of the Native Americans, including Kateri's parents and younger brother. Although she survived the disease, she was left very weak, with impaired eyesight and a scarred face for the remainder of her life.
About five years after the epidemic, the survivors of the village moved to the Turtle Clan Village of Kahnawage (Gah-na-wa-gay)  to begin a new life.  Kahnawake is located on the north bank of the Mohawk River and is now called Fonda, New York.
Kateri first met Fathers Fremin, Bruyas and Pierron in 1667 when they came to the village on a mission to spread Christianity.  Kateri showed great interest in the Black Robes, remembering her mothers teaching from the time that she was a small child.
In 1670, a Mission was established in the village and a Chapel was built inside one of the longhouses.  In 1674, Fr. Jacques De Lamberville took charge of the Mission.
Kateri met Fr. De Lamberville a year later when he visited her home.  At that time, she expressed her desire to become a Christian and be baptized.  She began religious instructions and on Easter Sunday, April 5, 1676, she was baptized and given the Christian name, Kateri or Katherine.
In August, 1677, to avoid a forced marriage, Kateri fled her village to go and live at St. Francis Xavier Mission near Montreal, Quebec which was over two hundred miles away.  After a two-month journey through woods, rivers and swamps, she arrived at the Mission with the aid of friends
.
On Christmas Day, 1677 Kateri received her First Holy Communion.
Kateri became friends with a girl named Mary Teresa (Tegiaguenta/Day-guy-ya-gwan-dah) and both performed extraordinary penances.  They eventually requested permission to start a religious community, a request that was denied.
In 1678, Kateri was enrolled in the Pious Society called The Holy Family, because of her extraordinary virtues.
On March 25, 1679, at the Feast of the Annunciation, a moment after receiving Holy Communion, Kateri pronounced her vow of perpetual virginity.  From that time, her entire life was devoted to teaching prayers to the children as well as comforting and caring for the sick and elderly.
Kateri became ill on Wednesday of Holy Week, April 19, 1680 and died at 3 o'clock in the afternoon, at the age of twenty-four.  Her last words were "Iesos Konoronkwa" meaning "Jesus, I love You".  Favors and miracles obtained through her intercession began almost immediately.
Fifteen minutes after her death, before the eyes of two Jesuits and a room filled with Native Americans, the ugly smallpox scars disappeared from her face
.
On January 3, 1943, Pope Paul XII declared Kateri Tekakwitha venerable.  Pope John Paul II Beatified her on June 22, 1980.
On December 19th, 2011 Pope Benedict XVI decreed Kateri Tekakwitha a Saint.
On October 21st, 2012, Pope Benedict XVI Canonized Saint Kateri Tekakwitha.